Humans Understanding Humans (HuH) is a cultural translator for workplaces and neighborhoods: bringing newcomers and old-timers to Canada together to understand the cultural conventions, values and meanings that make-up our social lives, while busting language barriers that keep us apart.
HuH is an alternative to traditional cultural competency training and offers in-context language learning.

Component Parts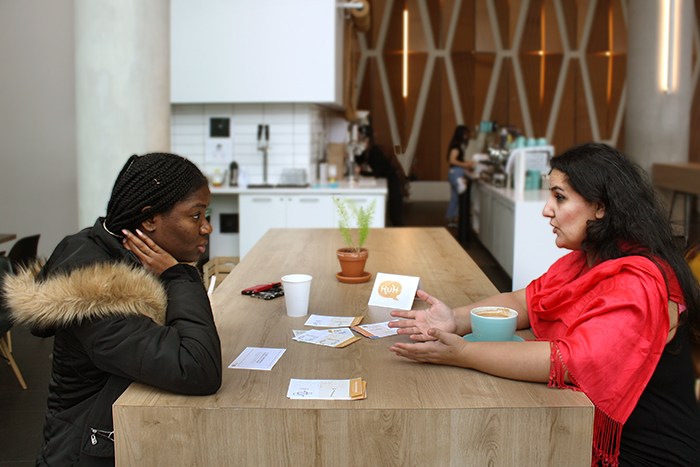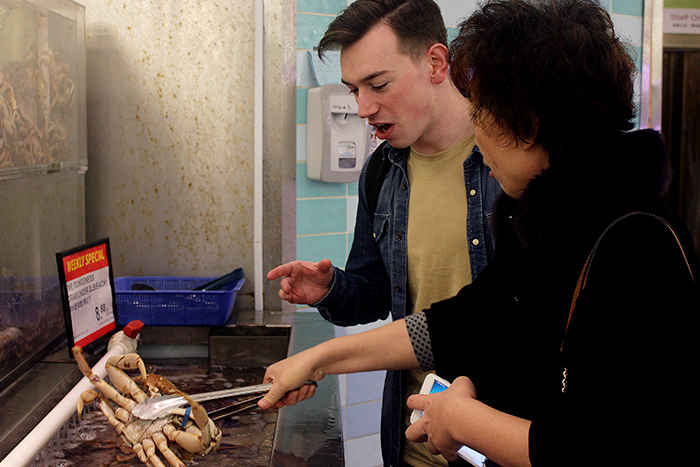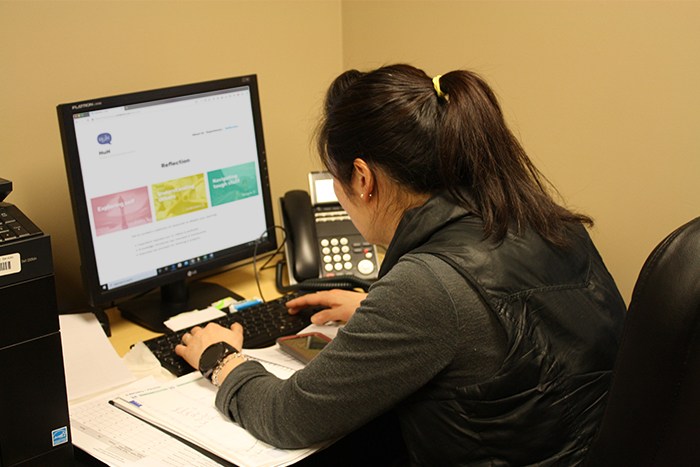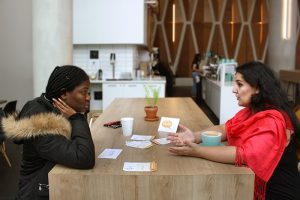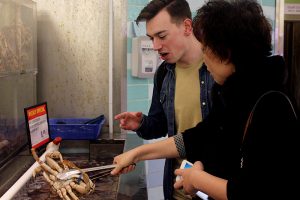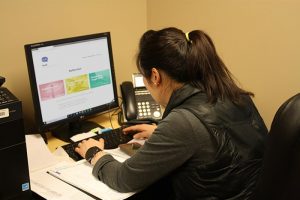 HuH consists of:
A set of visual tools to facilitate deeper conversation of culture and mediate language divides.
A new kind of interaction between newcomers, professionals and community members. Rather than diversity training held in meeting rooms, HuH curates experiences (think study abroad in your backyard) to swap perspectives and practice inter-cultural communication.
A new role for newcomers as cultural guides and hosts. Newcomers share the places, spaces and rituals that hold meaning to them.
A reflection platform for people to make sense of their learning and figure out how to apply to their workplaces and neighborhoods.
Stories and artifacts to show the commonalities and differences across cultures, and bring multiculturalism to life with shared references and language.
Pain Points
We started with six-months of ethnographic research to understand the lived realities of older and disabled newcomers in Surrey, British Columbia. That took us to parks, grocery stores and family homes. So many newcomers felt like the first few years were a period of "waiting" for life to begin again: they were waiting to learn English, waiting to meet neighbors, waiting to engage in community, waiting for jobs.
What if they didn't have to wait? What if we could broker connections and mediate the language barriers to enable people to connect to each other and to Surrey, the place they share? At the same time, what if we could grow the confidence and competence of organizations and professionals to interact with newcomers to create broader community change?
Research & Impact
Cultural humility is one of the big ideas underpinning HuH. Where traditional cultural competency models focus on acquiring knowledge to reach a standard, cultural humility emphasizes ongoing self-reflection and regular practice.
We'll never learn everything about each other's cultures, and we'll sometimes stumble and blunder. Cultural humility prepares us to humbly acknowledge that we will always be a learner when it comes to understanding another person's experience, and equips us with the mindsets and tools to build mutually respectful relationships.
Here's some of the outcomes HuH is working towards:
Shifting beliefs
Greater curiosity, humility & openness to learning
Feeling validated and valued
Overcoming guilt and shame
Feeling like part of a whole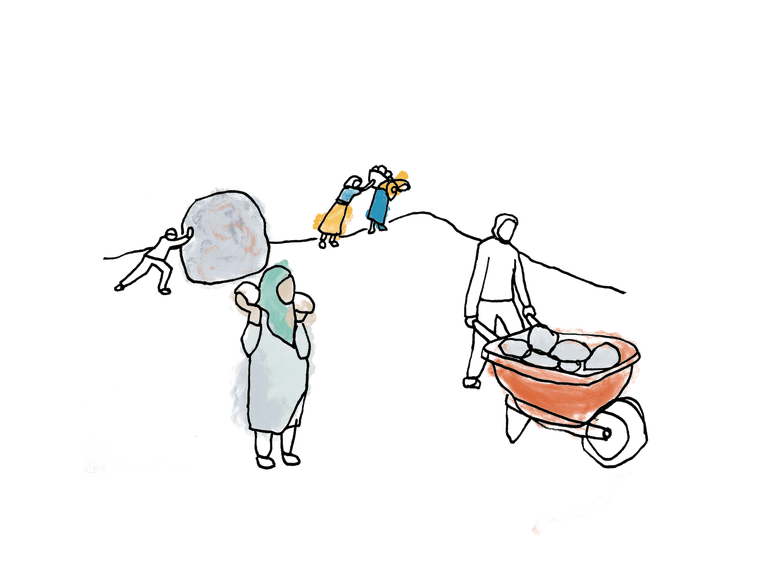 Building skills
Increased ability to work through uncertainty & discomfort
Building confidence and capacity to communicate across cultural and language divides

Increasing knowledge
A deeper understanding of ….
Identities, values and assumptions within self and others
Cultural humility
How systems and norms work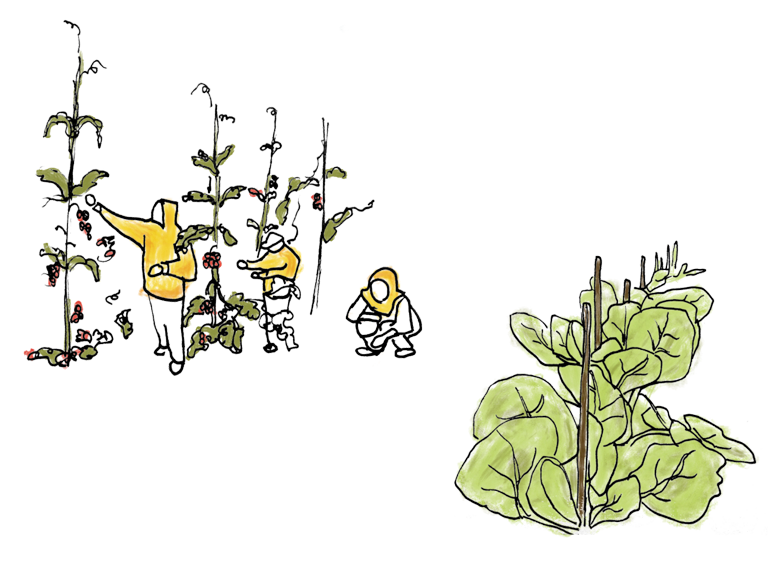 Rethinking relationships and power
Being an active agent instead of passive recipient
Greater reciprocity, mutuality and respect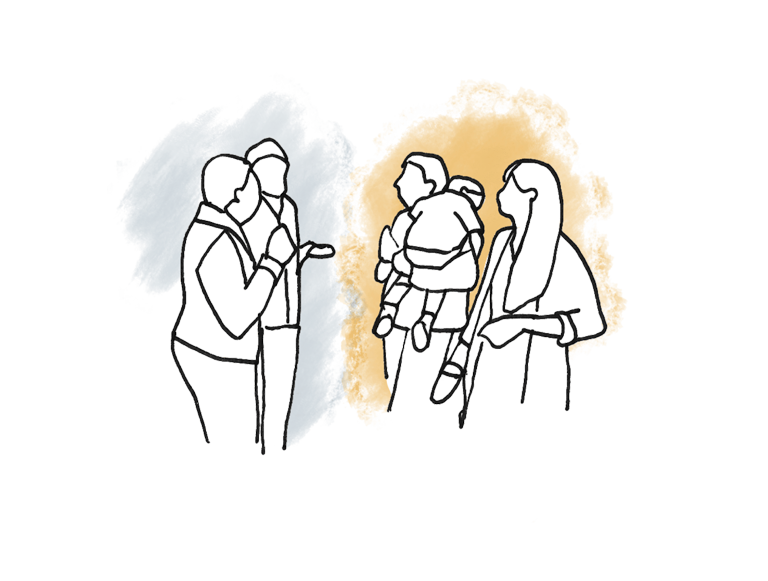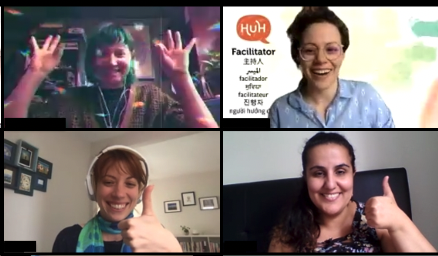 HuH is in the prototyping stage
We are currently running virtual cultural cafes. Come and join us.
The core change mechanisms at play in HuH are:
Bridging Social Capital
HuH brokers connections between people that would ordinarily not interact, widening the relationship circle around newcomers to Canada, professionals and neighbours.
Barrier Busting
Two of the biggest blocks to newcomers actively engaging in community are language and perceptions of value. HuH blends visual conversation prompts, high-context communication, and off-the-shelf translation technologies to mediate language divides. HuH also puts newcomers in the lead of interactions, viewing their cultural know-how as a real community asset.
Modeling and Rehearsing
It's one thing to learn a language in a classroom, it's another to practice a new language in real life settings. HuH provides newcomers with spaces to rehearse their English and receive live feedback.
Story Editing
The stories we tell ourselves about who we are shape how we interact in the world. HuH offers people space to reflect on their cultural identities, articulate their values and beliefs, and find the stories we share in common across cultural and language divides.
Team & Partners